Doherty And Pinches Reach Quarters
Ken Doherty and Barry Pinches both moved one step closer to 2021 ROKiT World Seniors Snooker Championship glory after winning their respective first round matches this afternoon at the Crucible Theatre.
Doherty suffered heartbreak in the final of last year's event when he lost to champion Jimmy White, but he began his quest to get back to the tournament's title match with a ruthless 3-0 victory over Joe Johnson inside 50 minutes.
In a meeting of two former world professional champions, Doherty made his intentions for this year's seniors event very clear, compiling a classy clearance of 102 in the opening frame.
The Darlin of Dublin continued to restrict his opponent – the reigning Seniors Masters champion – as breaks of 33 and 30 helped him double his lead before a run of 55 in frame three capped off an impressive performance; finishing with a pot success rate of over 92%.
Speaking to Rob Walker after the match Doherty said: "I settled in very well in the first frame – I made a nice break. I didn't know what to expect today if I'm honest. I was a little bit nervous starting off. I've got some bad memories coming back here after last year.
"It's such a wonderful venue; it's such a shame there are no people here to enjoy it with us but it's great to be back and have the seniors back on."
Doherty will face David Lilley on Saturday in the last eight.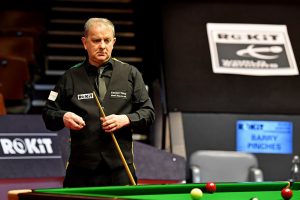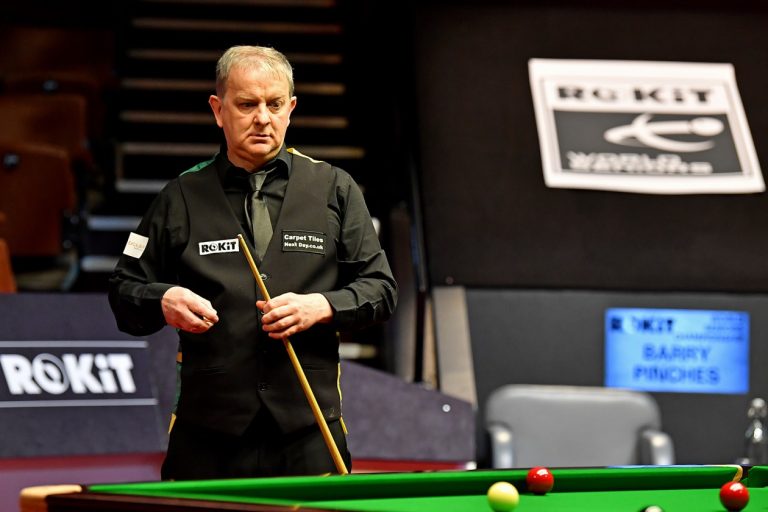 Pinches, who reached the final of the aforementioned Seniors Masters on his last visit to the Crucible Theatre, got his campaign off to an ideal start with a 3-0 victory over 1985 World Champion Dennis Taylor.
The Norwich competitor started strongly, potting a long red off his opponent's break-off and subsequently crafting a frame winning contribution of 69.
Taylor gained a slight foothold early on in frame two but he was perhaps unfortunate to leave the final red on after escaping from a snooker; an opportunity that was capitalised on by Pinches.
One of snooker's all-time legends, Taylor completed several impressive shots in the third frame before former PTC professional event winner Pinches made an effort of 74 to seal his progress into the quarter-finals where he will cross cues with Patrick Wallace.
Following the result, 72-year-old Taylor announced his retirement from competitive snooker.
The popular Northern Irishman has played a vital role in the success and development of the ROKiT World Seniors Snooker Tour since its inception. Taylor will continue to play in exhibitions and be an ambassador for the sport with his various broadcasting roles.