Lilley Survives Williams Test
Defending champion David Lilley and former champions Jimmy White and Nigel Bond were amongs those who advanced to the quarter-finals of the 2022 Ways Facilities Management World Seniors Snooker Championship during Friday's play at the Crucible Theatre. 
Lilley – aiming to become the first maiden winner to retain the title – survived a big scare, coming back from two down with three to play to oust Philip Williams.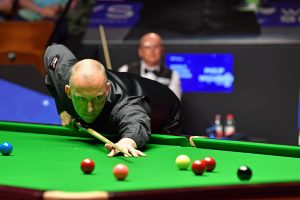 Qualifier Williams opened up a 2-0 lead (56 break, frame one) before Lilley responded with frames three (60 break) and four to level up. However, in a nervy deciding frame, Williams had the opportunity to counter-attack but rattled the final red along the top cushion. The mistake was capitalised on by a very relieved Lilley. 
Elsewhere in the morning session, Ken Doherty ended the challenge of Wayne Cooper, 3-1. 
A quarter of a century on from his glory in the professional championship here, Doherty recorded breaks of 70 and 73 to dispatch his opponent and stay on course for a unique quadruple having also claimed the world junior and amateur accolades early in his prestigious career. 
The afternoon began with Lee Walker producing arguably the performance of the event so far as he eliminated Stephen Hendry, 3-0. 
The Welshman hit the ground running, crafting a magnificent 121 clearance in the opening frame – the first century of this year's championship. Further breaks of 63 and 49 helped Walker stifle Hendry and move into the last eight for the first time. 
Michael Holt will also feature in the quarter-finals but the tournament favourite didn't have it all his own way as he defeated 2011 winner Darren Morgan. 
Holt comfortably won the first frame with an effort of 63, but the experienced former world number eight struck back with a 51 to level up before appearing to look good for a lead in frame three.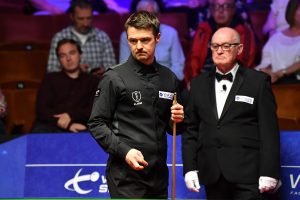 However, whilst on a break of 63, Morgan missed a pot down a side cushion and Holt punished, pinching the frame on the final black with a clearance of 34. With momentum now on his side, former Shoot Out winner Holt – competing in his first world seniors event – wrapped the match up without reply in the fourth. He will face Lilley next in a tasty clash. 
Crowd favourite and three-time champion White got his campaign off to a pleasing start as he eliminated African seniors champion Wael Talaat from Egypt, 3-0. 
White, who recently celebrated his 60th birthday, made a clutch break of 38 to secure the opener before finding his scoring groove with contributions of 67 and 79. Since the championship moved here in 2019, the Londoner has lost just once in 13 matches – last year's final to Lilley.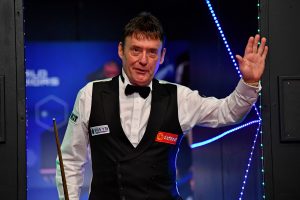 The day was rounded off with a routine 3-0 success for 2012 winner Bond over John Parrott. Bond top scored with 57 in the second frame. 
Following his appearance, 1991 World Professional Champion Parrott announced his competitive retirement from the seniors circuit. 
Parrott was given a standing ovation by the crowd in the Crucible Theatre as he paraded the world trophy he first lifted there over three decades ago. 
Saturday morning's play saw Peter Lines score a 3-0 win over Gary Filtness, while Rory McLeod saw off Joe Johnson 3-1.
Coverage is live on BBC digital platforms for those in the UK and Matchroom.Live for everyone else.