Victories For Hendry And Wallace
Stephen Hendry and Patrick Wallace were the latest players to secure spots in the quarter-finals of the 2021 ROKiT World Seniors Snooker Championship as the opening day of the event drew to a close.
A winner of the world professional championship on seven occasions, Hendry moved a step closer to a maiden world seniors final appearance as he dispatched 1977 UK Champion Patsy Fagan 3-0.
'The King of the Crucible' compiled a break of 44 on his way to claiming the first frame but he needed a few slices of good fortune to double his advantage in the second; eventually taking it on the black.
Hendry raised his game in frame three, crafting a break of 81 to complete the victory, although the Scot was downbeat about his performance in a post-match interview with Rob Walker. "On another day I lose that match – in the second frame I was very lucky. In the third frame my cueball was social distancing," said a bemused Hendry.
When asked who he'd like to play in the quarter-finals, Hendry quipped "Let's play JP!" John Parrott – his BBC commentary co-worker – plays Brazilian Igor Figueiredo on Friday night.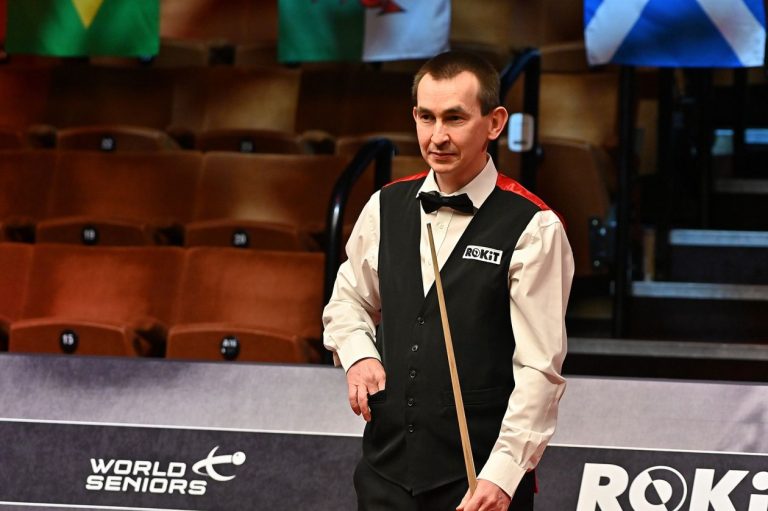 WALLACE WINS
A close friendship of 25 years was put on hold for a few hours in the evening's second match as Wallace ousted Michael Judge in a deciding frame.
In a meeting of cueists from either side of the Irish border, Dungannon's Wallace made an impressive start, registering a run of 67 to go 1-0 up.
Current UK Seniors Champion Judge was unable to settle in the second frame – squandering a golden opportunity to tie the match up – and his opponent fully capitalised with a cool clearance of 36 to move further ahead.
It seemed as if Wallace was going to record a straight frames win, but he failed to get position whilst on a break of 36 in frame three and Judge – with his back against the wall – produced an effort of 71 to get a foothold. The Dubliner then also chalked up the fourth to force the tie all the way.
However, a determined Wallace went on the attack in the decider, staying positive throughout a classy break of 85 to clinch a 3-2 triumph.
Over two decades on from his run to the last eight at the world professional championship here, Wallace can look forward to another Crucible quarter-final on Saturday against either fellow countryman Dennis Taylor or Barry Pinches.